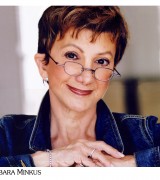 Barbara on IMDB
www.barbaraminkus.com
Film: Love At First Bite, Lady Sings the Blues, What's So Bad About Feeling Good?, Witches Brew, Killings at Outpost Zeta,The Malibu Bikini Shop,Linda Lovelace for President,Happy Hooker Goes to Washington.
Television:Love American Style, Tosh.O Comedy Show, Curiosity Shop,Pacman, Alice, Brenda Star, Mother, Jugs & Speed Pilot, Rhoda, How to Get A Divorce, The Tonight Show, The Merv Griffin Show.
Broadway: Rose Mitnick in Education of Hyman Kaplan (Alvin Theatre).
Off-Broadway: Lead in Don't Leave It All To Your Children (Actors Temple Theatre); Molly Picon in Picon Pie (Daryl Roth2 Theatre); The Original Lucy in You're a Good Man Charlie Brown (Theatre 80); Sweet Young Thing in RondelayJulius Monk's Bits & Pieces (Plaza 9).
National Tours: Yente in Fiddler On The Roof; Miss Lynch in Grease ;Fanny Brice in Funny Girl; Molly Picon in Picon Pie; Jennie Grossinger in Saturday Night At Grossingers.
Regional Theatre:Grandmother in Funny You Don't Look Like A Grandmother (Santa Monica Playhouse); Grandma/ Sadie in 70 Girls 70 (Musical Theatre Guild LA).
Education: Neighborhood Playhouse: Sandy Meisner