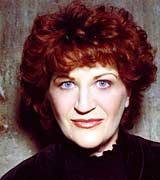 TV: Sonya in Nightcap (Pop TV), Iris in Derailed, Gert in Vinyl (HBO), Edith Mauer in Boardwalk Empire (HBO), Law & Order, Law & Order SVU .
Film: The Seagull (Olga)
Broadway/National Tour performances: Madame Morrible in Wicked; Yente in Fiddler on the Roof; Sophie/Mrs. Pugh in Annie.
Off-Broadway: Aunt Eller in Oklahoma (Finger Lakes Music Theatre Fest), A Man of No Importance (Mitzi Newhouse Theatre), Miz. Cunnigham in Night of the Hunter (Vineyard Theatre Workshop), Flora, Sadie, Alexandra, Mrs. Sullivan, and Carmella in No Way to Treat a Lady (Atlantic Theatre Workshop), Babylove in The Grass Harp (York Theatre-Mufti).
Regional: The Ballad of Little Jo (Two River Theater), The Music Man (Cape Playhouse), Mary Poppins (Alabama Shakespeare Festival), Fiddler on the Roof (Theate of the Stars), Surviving Grace (The Kennedy Center), The Seagull, Great Expectations, Cyrano de Bergerac, A Christmas Carol (The Guthrie Theatre), Can-Can (The Goodspeed Opera House), Fanny Hill, Heartland, Mirette, Dorian (Goodspeed at Chester), Jake's Women (Walnut Street Theatre and The Coconut Grove Playhouse), A Tale of Two Cities (Pioneer Theatre Company), Company (Caldwell Theatre Company), A Midsummer Night's Dream (Playmakers Repertory Co.), Romeo and Juliet, King John, Hay Fever, A Flea in Her Ear, The Seahorse (North Carolina Shakespeare Co.).
She has had the pleasure of working with directors Gabe Barre, Tom Caruso, Martin Charnin, Olympia Dukakis, Drew Scott Harris, David Leveaux, Joe Mantello, B.T. McNicholl, Jeremy Podeswa, Lonny Price, Bart Sher and Tim Van Patten.