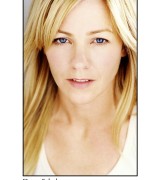 Film: True Story, Outliving Emily, See You Next Tuesday, Deep Powder, The Professor, Please Be Normal, The Company Men, Three Backyards, Peter and Vandy, The Brave One, The Interpreter, Cold Creek Manor, among others.
TV: The Mysteries of Laura, The Americans, The Good Wife, NYC-22, Brotherhood, All Law and Orders, Exiled: A Law and Order Movie, The Unusuals, 100 Centre Street, New York Undercover (recurring), Prince Street (lead).
Theater: Massacre: Sing to Your Children / Rattlestick Theater; Balm in Gilead / Willimon; Lascivious Something / The Women's Project; A Perfect Couple / WET; Platonov, The Cherry Orchard, Three Sisters, The Seagull / Theater at Lake Lucille; Anon / The Atlantic Theater; After Ashley / Vineyard Theater; As I Lay Dying, A Clockwork Orange, Slavs! / Steppenwolf Theater.