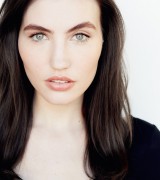 http://www.imdb.com/name/nm3366702/
TV: The Picture (New Media Series), Reign (The CW), True Blood (HBO), True Jackson (Nickelodeon), Secret Life (ABC Family)
Film: Shotgun (dir. Hannah Marks/Joey Power), How to Pick Your Second First Husband (dir. Sandra L. Martin), Dirty Beautiful (dir. Time Bartell), I Remember You (Dir. Claudia Sparrow), Casual Encounters (Dir. Zackary Adler), Caveman (Dir. Herschel Faber), Misirlou (Dir. Trevor Simms), Conviction (Dir. Tony Goldwyn).
Theatre: Picnic (dir. Cameron Watson).
Training: UCB, NYC, Antaeus Theater Company – Affiliate Member, The Linklater Center for Voice and Language, Ballet Academy – East, ALIGN Ballet.
Special Skills: Southern, British, Italian. *Triple Citizen: American, Canadian, Italian (EU Passport)