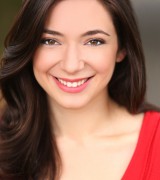 THEATER/BROADWAY: Fiddler on the Roof (dir. Bartlett Sher: Broadway Theatre), Les Miserables – 25th Anniversary (dir. L. Connor/J. Powell :  Imperial Theater), Spring Awakening (dir. Michael Mayer : National Tour).
REGIONAL: Once (dir. Michael Berresse : Weston Playhouse), Rags (dir. Robert Kelley : Theatreworks), The Golem of Havana (dir. Michael Haussman : Barrington Stage), Les Miserables (dir. Craig Shulman : Amarillo Opera/ dir. Dave Clemmons : NC Theater), 25th Annual Spelling Bee (dir. Tobi Beth Silver : Downtown Cabaret), The Wizard of Oz (dir. Bert Bernardi : Downtown Cabaret).
TELEVISION: Sunrise/Sunset (CBS : 70th Tony Awards), Movie-Musical Segment (ABC: 85th Oscars), One Day More (NBC :America's Got Talent/ ABC : Good Morning).
TRAINING: NYU: Tisch School of the Arts- BFA in Drama with Honors).
Cap21 - Musical Theater, Classical Studio - Shakespeare, Stonestreet Studios – Film &TV.
Dance: Jazz, Tap, Swing.
SKILLS: Spanish (fluent), Italian (basic ), Hebrew Prayers
Dialects: British French, German, Spanish, Russian, Czech, NY
Instruments: Piano, Flute, Voice (3-Octave Range), Sight Reading, Excellent at Harmony
Basic Stage Combat: Unarmed, Katana