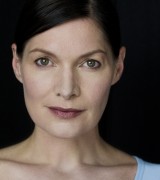 Broadway: U/S for Patricia in Sight Unseen (with Laura Linney and Daniel Sullivan), Rachael Brown in Inherit the Wind, Lady Teazle in School for Scandal, for which she won the Theatre World Award and Lady Macduff in Macbeth (with Kelsey Grammer)
Off-Broadway: Emilia in Othello (Theater for a New Audience, won the Callaway Award), Portia in The Merchant of Venice (with F. Murray Abraham at TFANA/RSC), Belamira in The Jew of Malta (TFANA), Helena in All's Well that Ends Well (TFANA), Janis Joplin in Love, Janis (Village Theatre), Desdemona in Othello (with Liev Schrieber at The Public) and Jean in The Entertainer (Classic Stage Company)
Regional: Edward/Betty in Cloud 9 (Hartford Stage), Josie in A Moon for the Misbegotten (GEVA Theatre), Maria in Twelfth Night (Resident EnsemblePlayers/TFANA), Lady Macbeth in Macbeth, Carisse in La Dispute and Elizabeth Proctor in The Crucible (all at Hartford Stage), Mrs. Arbuthnot in The Woman of No Importance (Yale Rep), The Price, The Provoked Wife, Candida, The Night of the Iguana, Exposed, Scent of the Roses, Learned Ladies, Skylight, As you like it, Doll House, Streetcar named Desire, The Caucasian Chalk Circle, Sincerity Forever, Hamlet, Macbeth/La Dispute (in rep) and Othello.
Film/TV: The Longest Ride (Fox Pictures), Term Life (Universal), The Sacrament (Ti West, Eli Roth), Law and Order (NBC), Substance of fire (Goldheart Films), As the World Turns (CBS) and One life to live (ABC).
Training: MFA, NYU Graduate Acting Program. Further study with Cecily Berry, Rob Clare and Slava Dolgachev.
Skills:  Award winning narrator of audio books, semi-fluent in spanish. American Dialects: Southern Regionals, New York, Midwest. British Dialects: RP, Cockney. South African. Irish. Sports: Trap shooting (competitive), snow skiing, kayak/canoe.