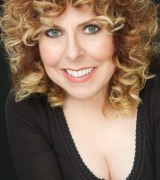 Lisa Raggio began her career performing in some of New York's finest nightclubs: the Copacabana, Reno Sweeney's, Dangerfield's, the Hippopotamus, and the Grand Finale.
On Broadway, she has appeared in The Magic Show, Grease, and Got Tu Go Disco. In addition to touring the country with Grease, Annie, Suds, and Lunch, Lisa has performed in the following Los Angeles productions: Women Behind Bars, Nunsense, Twist of Fate, Annie, Rock Candy, and the Joni Mitchell Project. She has also performed in productions of Bingo, Something's Afoot, Steel Magnolias, and Fiddler on the Roof.
On television, she appeared as a series regular on Private Benjamin. Some of her other TV credits include: NYPD Blue, ER, Murphy Brown, Coach, and Sister, Sister. You can hear her voice in many animated projects: Animaniacs, GI Joe, Ah! Real Monsters, The New Adventures of Mighty Mouse, Monsters, Inc., Fievel Goes West, The Little Mermaid, and Where in the World is Carmen San Diego?
Lisa wrote, produced and performed her one-woman show, Back to My Roots, in Los Angeles. She is currently co-writing a new musical and a memoir.Raggio, a dual citizen of the US and Italy, holds an MA in Psychology & Counseling and is an accomplished reader of the Tarot.