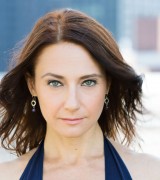 Most recently in film M. Grace can be seen in The Immigrant by James Gray which was in competition at Cannes and New York Film Festival 2013, playing Aunt Edyta opposite Marion Cotillard. The film also stars Joaquin Phoenix and Jeremy Renner; and as Mrs. Zygmund on Cinemax in The Knick, directed by Steven Soderbergh. She made her Broadway debut in 2009 at The Walter Kerr Theater, in Irena's Vow by Academy Award nominee Dan Gordon, directed by Michael Parva. Most recently on stage: Corinne in Lady Macbeth and Her Lover by Pulitzer Prize nominated Richard Vetere; and Mark Ravenhill's pool (no water) at The Barrow Street Theater with The One Year Lease Theater Company (ensemble member). M. Grace has also appeared on television in Madam Secretary.
Additional theater credits include: Geraldine Connelly in the House of Connelly by Paul Green (first actress to play the role since Stella Adler) with the ReGroup Theater; Marina Petrovna, in Foggy Bottom by James Armstrong at The Abingdon Theater; and a Palestinian activist, a Chicago lesbian and a 70 year old Israeli Zionist in the Chicago Silk Road Theater's two hander play Precious Stones; a Father in The Obie Award winning play An Oak Tree by and with Tim Crouch at The Barrow Street Theater (other fathers included F. Murray Abraham, Joan Allen, and Frances McDormand) and Rewriting Her Life, by Barbara Masry, directed by Tony Award winner Trazana Beverly. Maja has had runs at The Pearl Theater, HB Playwrights Foundation, MCC, Carnegie Hall, Metropolitan Museum, NY Fringe Festival, Theater for the New City, NYDIA, and Looking Glass Theater. She can be seen in such films as Mona Lisa Smile by Mike Newell and Shopping by Henry Jaglom.
She studied acting with Uta Hagen, Austin Pendleton, and her mentor Robert X. Modica; Shakespeare at the British American of Dramatic Academy; interned with the Wooster Group; graduated Summa Cum Laude with a BA in English Literature from Wayne State University; and is bilingual in Polish and English. M. Grace also graduated from the Bikram Yoga College of India, practices daily and teaches for Bikram Yoga NYC.