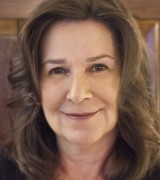 Film: The Book of Henry, Freeheld, Dark Horse, Detachment, The Other Woman, Bam Bam & Celeste, The Ring Two,  Last Night, The Rundown, Secretary, Celebrity, Girl's Town, Mohave Moon, Searching for Bobby Fisher, Joey Breaker, Alice, Tune in Tomorrow, Fatal Attraction, Candy Mountain, Signs of Life, The Whoopee Boys and Desperately Seeking Susan.
Television: Divorce, Gotham, Veep, The Big C, Smash, Grey's Anatomy, Gilmore Girls, Wanted, Century City, Skip Tracer, Nip/Tuck, ER, For the People, Boston Public, NYPD Blue, Sweet Temptation, All my Children, High Incident, Courthouse, Homicide, Law and Order, As the World Turns, Against the Law, The days and nights of Molly Dodd, Judgement and Women & Wallace.
Theatre: On a Bench (59E59), A Naked Girl of the Appian Way (South Coast Rep), Safe as Houses (SCR Pacific Playwrights Festival), Women & Wallace (Playwrights Horizons), The Maderati (Playwrights Horizons), Vanishing Act (Ensemble Studio Theatre), Responsible Parties (Vineyard Theatre), Amorphous George (Manhattan Class Company), Lydie Breeze (American Place Theatre), The Diary of Anne Frank (Theatre Four) and The White Hawk (Annenberg Center).
Training: Emerson College, RADA and William Esper