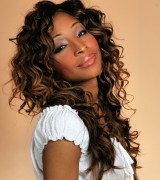 NY Post calls N'Kenge "Electrifying" in the role of Mary Wells in Broadway's hottest new show Motown: The Musical. N'Kenge made her Broadway debut in Sondheim on Sondheim alongside Barbara Cook, Vanessa Williams and Norm Lewis and starred in The Genius of Ray Charles where she made her West End debut. She has been hailed by Variety as "a sensational powerhouse of a singer packed in a lithe body." A native New Yorker, She just returned from starring in the World Tour of the Michael Jackson Tribute Show. N'Kenge graduated from both the prestigious Juilliard School and Manhattan School of Music. N'Kenge made her Carnegie Hall debut with the New York Pops Orchestra where NY Times called her "a classically trained diva that can stretch from Broadway, Pop Soul to Opera. N'Kenge's debut EP TAKE ME OFF produced by Kerry Gordy, son of Motown Legend Berry Gordy, is available on itunes worldwide. N'Kenge has performed alongside jazz greats such as Wynton Marsalis and Ornette Coleman at Lincoln Center and has been a Principal Artist at New York City Opera. N'Kenge had the honored to perform for the Commander-in-Chief's Inaugural Ball hosted by President Obama.
Equally at home on the opera stage, N'Kenge has been seen in a range of opera roles including Susanna in The Marriage of Figaro, Musetta in La Boheme and Therese in Les Mamelles de Tiresias. N'Kenge has given recitals at the White House, Kennedy Center, and at the Library of Congress which it was broadcast worldwide through NPR.
N'Kenge has been nominated for Outstanding Lead Actress in a musical for the title role in Elton John's Aida and as a Diva in Marion Caffey's 3 Mo'Divas.
For more news and tour dates, visit N'Kenge at www.nkengemusic.com