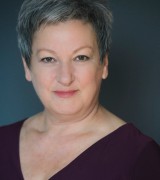 Broadway: Mme. Thenardier in Les Miserables at the Imperial Theater, Mrs. Brill in Mary Poppins.
US National Tour: Mrs. Brill in Mary Poppins.
West End: Miss Flannery in Thoroughly Modern Millie, Yvette in Lautrec, Mrs. Pugh/Miss Hannigan in Annie, Mrs. Potts/Wardrobe in Beauty and the Beast, Dora Bailey in Singin' in the Rain, Lottie in Mack and Mabel, Blondette in Blondel, June in Chicago, Val/Maggie/Judy/Kristine in A Chorus Line.
Royal National Theatre: Agatha in Guys and Dolls, Mrs Vixen in Begger's Opera.
London: Mrs. Wire in Lady of Larkspur Lotion, Hattie in Follies, Josephine Strong in Urinetown The Musical, Suzette in Bless the Bride.
UK National Tours: Felicia Gabriel in The Witches of Eastwick, Miss Skillon in See How They Run, Jessica Conway in Hot Flush!, Mme Dubonnet in The Boyfriend, Miss Gibson in Daisy Pulls it Off and Miss Barnes in The Winslow Boy.
Regional Theatre: Marietta Shingle in A Gentleman's Guide to Love and Murder (Hartford Stage/Old Globe), Rose in Gypsy (Cardiff Millennium), Sylvia "Bodybag" Hollamby in Bad Girls the Musical (West Yorkshire Playhouse), Helene Hanff in Underfoot in Show Business (Devonshire Park), Lowbutt in The Ugly Duckling (Honk), Beggar Woman in Sweeney Todd (Oldham Coliseum), Mona Kent in Dames at Sea (Mill at Sonning).
Television: Your Stupid, The Knick, Casualty, Holby City, Daylight Robbery 1, Daylight Robbery 2, Where There's Smoke, Big Women, The Bill, Smith and Jones, The Queen's Nose, The Beggar's Opera.
Film: Evita, Endgame, Beg, Jack Brown and the Curse of the Crown.