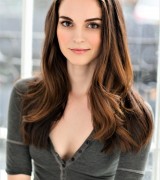 Off-Broadway: The Fantasticks (Luisa) Jerry Orbach Theater/dir. Tom Jones
Regional: Oklahoma (Laurey) Godspeed/dir. Jenn Thompson, Sweeney Todd (Johanna) Denver Center/dir. Kent Thompson, The Royal Family (Gwen Cavendish) Shakespeare Theatre of NJ/dir. Bonnie Monte, Gypsy (Louise) Harbor Lights/dir. Bill Castellino, Strike Up The Band (Joan Fletcher) 42nd Street Moon, Cyrano (Roxanne) Sierra Repertory Theatre, Boeing Boeing (Gretchen) Sierra Repertory Theatre,  Carousel (Julie Jordan) Sierra Repertory Theatre, Hairspray (Amber Von Tussle) Woodminster Amphitheater,  A Chorus Line (Maggie) Broadway by the Bay.
NY Readings/Workshops: Loz Tempesta (Miranda) dir. Tom Jones, Poz (Brooke Shields) The Fire This Time Festival.
Film/TV: The Understudy (Lead) Columbia University, Piece of My Heart (Guest Star) ID/Spark Entertainment, Mysteries at the Castle (Supporting) Travel Channel, Peyton's Truffle (Lead) School of Visual Arts.
Concerts: Gypsy (Louise) Symphony Silicon Valley, The King's Legacy (Anne Boleyn) 54 Below.
Training: B.F.A. Musical Theatre, Notre Dame University (magna cum laude)
Skills: Great ear for accents and dialects, basic tumbling, splits, pratfalls, juggling, horseback riding, former lifeguard.