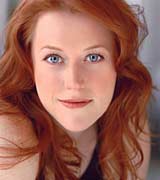 New York Theatre: Elspie in The Glass Cage (Mint Theatre); Improv. Ensemble in We Just Might Kiss (Magnet Theater): Sarah in JB (J City Theatre).
Regional: Actress 2 in The Critic/Felicity in Real Inspector Hound (Guthrie Theater); Actress 2 in The Critic/Felicity in Real Inspector Hound (Shakespeare Theatre DC); Myrtle Wilson in The Great Gatsby (Virginia Stage); Mina/Lucy in Dracula (Alabama Shakespeare Festival); Stella in A Streetcar Named Desire (Walnut Street Theater); Lucy in Dracula (Actor's Theatre of Louisville); Norah in Ah, Wilderness! (Baltimore Center Stage); Jennie in Voices Underwater reading (Baltimore Center Stage); Irina u/s in The Three Sisters (American Repertory Theatre); Fanny u/s in Amerika (ART/Theatre de la Jeune Lune); Ensemble in The Seagull (Williamstown Theater Festival); Regan in King Lear (Ten Thousand Things); Mrs. Soderstorm in Whale (Mpls. Children's Theater Company); Ensemble in Starry Messenger workshop (Mpls. CTC and Margolis-Brown Co.); Joan in Far Away (Pilsbury House Theatre); Maria in An Experiment with an Airpump (Park Square Theatre); Catherine in Proof (John Hassler Theatre); With in Macbeth (MN Shakespeare Project); Chastity/Jean in Self Defense world premiere (Frank Theatre)
Film/Television: Cloud 9 (short); Hunting Season (short); Letterbox (short); "Tip"ical Mary Ellen Show (HGTV)
ART Institute/MXAT Theater: Sonya in Crime & Punishment; Bakkai in The Bakkai; Petra in Arabian Night; Ensemble in Pants on Fire.
Education: MFA-American Repertory Theatre/Moscow Art Theatre (MXAT) Institute at Harvard University-2006, New England Conservatory-Bachelor of Music Candidate in Classical Vocal Performance