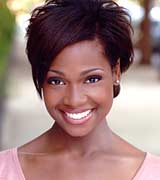 Broadway: Erato in Xanadu (Helen Hayes Theatre), US Emmie Thibidoux in Caroline or Change (Eugene O'Neil Theatre).
Off-Broadway: Lucille, Jose & Bobbi Jean in Junie B. Jones (Lucille Lortel Theatre).
First National Tour: Lil' Inez in Hairspray (Richard Frankel Productions).
Television: Patient #3 & Feat. Soloist in Biolase Training Documentary (DVD), Emperor Isis in MTV Video,  Voice Over for Mother (NY Lotto).
Theater: Grace in The Piano Lesson (The McCarter), Woman #2 in Ain't Misbehavin' (Bucks County Playhouse), Pearly in The Circus in Winter (Goodspeed Terris Theatre), Taylor in High School Musical (Theatre of Stars), Lorraine in All Shook Up (Art Park), Yolanda in Crowns (Indiana Rep/Syracuse Stage), Taylor in High School Musical 2 (Fox Theatre), Abyssinia in Abyssinia (North Shore M.T./Goodspeed), Charlene in Ain't Misbehavin' (West Virginia Public Theatre), Brenda in Smokey Joe's Café (Beef & Boards Dinner Theatre), Tameeka (original) in A Holiday For Hope (Bushnell Theatre), Princess Amaliyah in Princess and the Golden Yam (Parrish Art Museum), Melopomene in Hercules (Disney Cruise Line – Wonder 4), Circle of Life (feat. Solo) in Disney Dreams (Disney Cruise Line – Wonder 4), Amazing Grace in Reading Rainbow (Theatreworks USA), Mary Magdalene in Jesus Christ Superstar (Lela Barlow Theatre), Ermina Crump in Crumbs from the Table of Joy (Billie Holiday Theatre), Harriet Tubman in Get on Board Little Children (Bantabaa Theatre), Beneatha in A Raisin in the Sun (Lela Barlow Theatre), Zonia in Joe Turner's Come and Gone (Studio 4).
Training: AMDA, Penny Templeton Studios, Rodger Kendrick Simon Studios.
Special Skills: Swimming- general ability, Comedy, Dance- hip-hop and jazz, Flute, Improvisation, Singer- vocal range-mezzo soprano; vocal style- legit belt, Voiceover, African accent, Cockney accent, Jamaican accent, New England accent, New York accent, Southern accent.