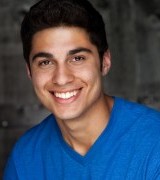 Theatre: Featured/ Soloist in You Are Now Free To Move About The Cabin, Juvenilia/Red Light Winter in Out Of The Blue,Featured/Ensemble in AMDA Songbook, Sabu/Ensemble in The Producers,Sky Masterson in Guys and Dolls, Mike Dillard in Working, Garvin in Footloose
Training/Education: AMDA (American Musical & Drama Academy) 2 year Integrated program
Musical Theatre: Evan Pappas, John Znidarsic and Jeffrey Dunn.
Dance: Jazz, Ballet and Tap.
Acting: Jason Chaet, Michael Perilstein, Cate Smith and Marc Gomes.
Voice: Byron Singleton and Julian Fiedler.
Voice Production & Speech:Chris Neher, Timothy Joseph Ryan and Joe Goszinski.