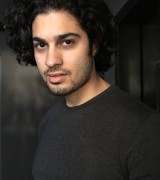 Theatre: Featured/ Soloist in You Are Now Free To Move About The Cabin, Juvenilia/Red Light Winter in Out Of The Blue,Featured/Ensemble in AMDA Songbook, Sabu/Ensemble in The Producers, Sky Masterson in Guys and Dolls, Mike Dillard in Working, Garvin in Footloose.
Film: Credits include Youth Patient in "Troubled Youth," John in "Break the Cycle," Drug Dealer in "101″ (Young Star Creative), Roger in "The Tragic History of Sam Swope" (High Society Films), Michael in "Same Paper, Different Day," and Tommy Deluca in "Business" (Hunter Productions).
Training/Education: Currently studying at the STUDIO with Brad Calcaterra. Graduated from AMDA (American Musical & Drama Academy): 2 year Integrated program
Musical Theatre: Evan Pappas, John Znidarsic and Jeffrey Dunn.
Dance: Jazz, Ballet and Tap.
Acting: Jason Chaet, Michael Perilstein, Cate Smith and Marc Gomes.
Voice: Byron Singleton and Julian Fiedler.
Voice Production & Speech: Chris Neher, Timothy Joseph Ryan and Joe Goszinski.