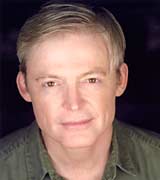 Film: The Company Men; Julia & Julia; The Windigo
Television: Law and Order; Law and Order, C.I.; As The World Turns; All My Children; Against The Law
Off-Broadway: Doctor Sweet in Bug, Killer Joe in Killer Joe, Morrison in Louis Slotin Sonata, Kent in King Lear, The Man in Closetland, Tesch in The Flattering Word.
Regional: David in Can You Forgive Her (Huntington Theatre Co.), Antonio in Twelfth Night (Long Warf Theatre); Mercutio in Romeo & Juliet (Denver Center Theatre); Randall in Heartbreak House (Berkshire Theatre Festival); Rhodes in Colossus of Rhodes (American Conservatory Theatre); Frank in All My Sons (Actors' Theatre of Louisville); Morris Townshed in The Heiress (Walnut Street Theatre); Fortinbras in Skinhead Hamlet (American Repertory Theatre); Simon in Hay Fever (Pioneer Theatre); Father in Aunt Dan and Lemon (Merrimack Repertory Theatre), Teddy in The Homecoming, Numerous roles with Shakespeare & Company including: Henry in Henry V, Benedick in Much Ado About Nothing, and King John in King John.
Artistic Director of Actors' Shakespeare Project.