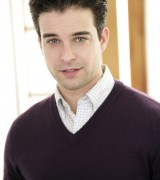 Off-Broadway: Cover in Old Jews Telling Jokes (Westside Arts), Julius Rosenberg in Ethel Sings (The Becket @ Theater Row), Edmund in Poetic License (59E59th Street Theatre), Michael in Dreyfus in Rehearsal (The Becket @ Theater Row), Noel in Fugue (The Cherry Lane).
Regional: J. Pierpont Finch in How to Succeed in Business (Marriott Lindolnshire Theatre), Seymor in Little Shop of Horrors (Cleveland Play House), Pete in Submission (Olney Theatre), How to Succeed in Business Without Really Trying (Hurron County Playhouse), Adam in The Shape of Things (Stamford Theater Works), Sam the Pickleman in Crossing Delancy (Forestburgh Playhouse), Hugo in Bye Bye Birdie (North Shore Music Theater), Woof in Hair (Prince Music Theater) Aladdin in Disney's Aladdin (Hyperion Theater) Eugene in Broadway Bound (Forestburgh Theater), Tom Sawyer in Adventures of Huck Finn original cast (TheatreWorks USA), Levi in Joseph…Dreamcoat (Media Theater).
NYC Theater & Workshops: (New-Guise) Mankynde (NY Fringe), Let's Face It (Musicals Tonight!), Gil in Stairway to Heaven (Manhattan Theater Works), Wurthering Heights (Mint Theater), Greed – The Musical, FirstLook Theater Company resident member.
NYU: Mendel in Falsettos (Tisch Mainstage), Finch in How to Succeed… (CAP21 Theater), Rajah Bimmey in On the Town.
Film/TV: Blue Bloods, The Get Down, Coming Up Roses w/ Bernadette Peters, That Month's Night.

Commercial & Print work available on request.