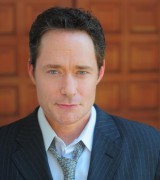 Off Broadway: The Cataract (Women's Project), Don't Lose Your Head, Humble Boy (Manhattan Theatre Club), Observe the Sons of Ulster Marching Toward the Somme (Lincoln Center Theatre) Far East (Lincoln Center Theatre)
Regional: As You Like It (Shakespeare Theatre); Brother/Sister Plays (McCarter Theatre); Rock n' Roll (Wima Theatre); Proof (Arena Stage); Top Ten People of the Milennium (Victory Gardens Theater); Far East (Westport Country Playhouse);  A Baltimore Waltz (Henlopen Theater); The Importance of Being Ernest (La Jolla Playhouse).
Film: Jem & The Holograms, Air We Breathe, Shuffle, Conversations with ID.
Television: Young Indiana Jones Chronicle, American Gothic.
Awards: Drama-Logue Critics Award (The Importance of Being Earnest); Tommaso Iacovella Award for Excellence in Acting (Duke University).
Training: B.A. from Duke University and an M.F.A. from the University of California, San Diego.