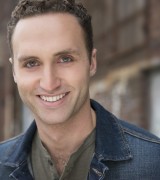 New York: Abraham Lincoln in Honestly Abe
Regional: Carl Bruner in Ghost, Jesus in Godspell, Kercheck in Tarzan (Regional Premier), Saunders in Lend Me A Tenor, King in Big River and Male Authority Figure in Hairspray at Wagon Wheel Theatre. Billy Bigelow in Carousel, Darren Lemming in Take Me Out, Robert Crowe in Never The Sinner and Oberon inThe Donkey Show at Western Michigan University Theatre. Edgar in King Lear and Bertram in All's Well That Ends Well at the Oxford Shakespeare Festival. Brad Majors in Rocky Horror Picture Show at Miller Auditorium
Workshops/Reading/Concerts: Late Night Broadway with Michael Gruber, Mikhial in Mayday Mayday Tuesday, Father in Violet, Shak-Graa in Starmites and Robert McKabe in Sandman.
Training/Education: Western Michigan University- BFA: Music Theatre Performance, Minor: Spanish
Voice Teachers: Ernst Trespalacios, Grace Mannion and Greg Harrell.
Song Interpretation: Jay Berkow and Greg Harrell.
Acting/Auditioning: Joan Herrington, Jim Daniels, Mark Liermann, D.Terry Williams, Jay Berkow, and Melissa Smith.
Dance: Ballet, Tap and Jazz.