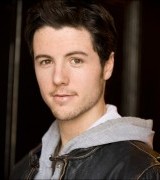 Denver: Curious Theater- World Debut of Astronomical Sunset(Jared)-Chip Walton-dir.

New York: MITF- Literary Disruption(Daniel)-Paula J Riley-dir.; Movement Workshop Group- Moontides(Clown)-Leslie Guyton-dir.; Movement Workshop Group-Dust to Dust(Clown)-Leslie Guyton- dir.; The Stages in the Sound-The Three Wise People(Ensemble)

Boston: Stoneham Theater- Picnic(Alan)- Caitlin Lowans-dir.; Emerson College- Marat/Sade(Jean Roux); Machina Pictures- Hundred in the Hands' Commotion(Lead Hipster)- Daniel Scheinert-dir.; Fish Films-Genius Boy(Lead)-Alex Fischer-dir.; Sony Films-21(featured).