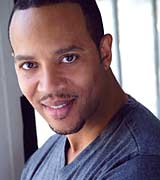 A proud member of Actor's Equity, Bobby Daye's career has spanned stage, film, tv and radio.
Broadway: After Midnight, Book of Mormon, Shrek the Musical, The Color Purple, The Lion King, Smokey Joe's Cafe, Dreamgirls, A Sondhiem Celebration, and The Wiz.
Off-Broadway, Regional and tours: Book of Mormon, The Wiz, Take Flight, Little Bhudda, Pageant, La Cage Aux Folles, Love Langston, Bubbly Black Girl Sheds Her Chameleon Skin, Everything's Ducky and more.
Actor's Fund Performances: Hair, Chess, Dreamgirls.
Awards: 2010 NYMF award for Outstanding Individual Performance for his work in the Great Unknown.
Television: Law & Order: CI, Ed
Film: The Elevator, In God's Hands
As a songwriter he penned the theme song to the ABC-TV soap LOVING which was performed by Johnny Mathis as well as written and/or arranged a few songs for Carols for a Cure including the Shrek holiday song ALL I WANT 4 XMAS on Carols For A Cure 11. . You can also catch Bobby in numerous television commercials as well as hear his voice on radio voiceovers such as the 'husband and wife' series of LOWE'S and CHASE.