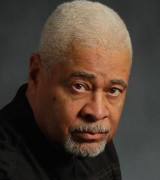 Film: Judge in Brawl Cell Block 99, Mike in Red Water, Jeff Worth in Deep Impact, Cyril Johns in Copland, FBI Chief in Peacemaker, Brother in Ashbury Park, Col Stevens in In and Out, Agent Cross in Die Hard III, Officer Thomas in Jumping Jack Flash, Bob Ming in Separate But Not Equal, Paul Robeson in The Garden, Booker T. Washington in Up From Slavery.
Television: Super in Forever, Judge La Rue in Ed, Sergeant Delmain in 100 Centre Street, Chief of Detectives in Law and Order (C.I.), Mr. Van Buren in Law and Order, Judge in Matlock, Rev Styles in Jake and the Fatman, Bill in Homefront.
Broadway: Joe in The Shadowbox (Circle in the Square)
Off Broadway: Doc in District Line, Bumer in Burners Frolioc, Bumer in Sally, Soldier in Jonquil, Booker T. in Boogie Woogie and Booker T., Booker T. in Cast Me Down, Aaron in Titus Andronicus, The King in Hamlet, Jacques in As You Like It.
Regional: Seth in Joe Turner Has Come and Gone (Penn Shakespeare Company), Hoke in Hamlet (Penn. Shakespeare), Charlie in Driving Miss Daisy (Pennsylvania Center Stage), Old Jim in Sounding the River (Mil. Rep. Company), Troy in Fences (Pioneer Stage).