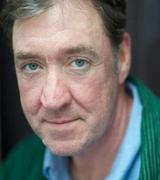 Christopher Donahue has appeared in New York in the Broadway production of "Metamorphoses" as Midas, and Off-Broadway in "Measure for Measure" (NYSF; as the Provost), "The Notebooks of Leonardo DaVinci" (Second Stage; as Leonardo), "The Arabian Nights" (Manhattan Theatre Club; as Shahryar), "Dogeaters" (Public Theatre; as Fassbinder et al.), and in the world premiere of Neal Bell's "Monster" (directed by Michael Greif at Classic Stage Company) as the Creature, for which he received an Obie award.
Regionally, he is proud to have participated in several world premieres, most notably with Tony award winning director Mary Zimmerman, originating roles in her productions of "The Arabian Nights" (Lookingglass), "The Odyssey" (as Zeus, later as Odysseus–Lookingglass, Goodman Theatre, McCarter Theatre, Seattle Rep), "Journey to the West" (as the Jade Emperor and others–Goodman, Huntington Theatre, Berkeley Rep), "Laughter in the Dark" (as Axel Rex–Remains Theatre), "The Actor Retires" by Bruce Norris (Remains Theatre), and "Silk" (as the Narrator–Goodman Theatre). He also originated the role of Fassbinder in the premiere of Jessica Hagedorn's "Dogeaters" (La Jolla Playhouse, dir. Michael Greif) and the role of Frederick Arnott in Matthew Barber's "Enchanted April" (Hartford Stage, dir.Michael Wilson). He appeared in the midwest premieres of "Mad Forest" (as Radu; Remains Theatre, dir.Michael Greif), "Arcadia" (as Chater; Goodman Theatre, dir. Michael Maggio), "Pterodactyls" (as Todd Duncan; Remains Theatre, dir.Neel Keller), and "The Baltimore Waltz" (as the Third Man; Goodman Theatre, dir.Mary Zimmerman; Joseph Jefferson Award nomination).
Other regional credits include "A Christmas Carol" (Milwaukee Repertory Theatre),  "The Seafarer" (Pittsburgh City Theatre, dir. Tracy Brigden), "Crime and Punishment" (Arden Theatre Co.;dir. Aaron Posner), "Tartuffe" (McCarter, Yale Rep; dir. Daniel Fish), "The Secret in the Wings" (Berkeley Rep, McCarter; dir.Mary Zimmerman), "Heartbreak House" (Two River Theatre; dir.Aaron Posner), Philip Glass's "Akhnaten" (Boston Lyric Opera, Chicago Opera Theatre; dir.Ms. Zimmerman), "An Ideal Husband"-"The Cherry Orchard"-"On The Verge"-"The Philadelphia Story"(all at Court Theatre,Chicago) and "Art"-"As You Like It"-"Stones in His Pockets"-"A Number" and "Betrayal" (all at Weston Playhouse in Vermont), "The Second Girl" (Huntington Theatre Company in Boston).
On film and television, he has appeared on "All My Children", "The Big Kahuna", "Since You've Been Gone" (dir. David Schwimmer), and as Max Edgars, who kills someone over an orange, in "Law and Order" (dir. Jace Alexander).