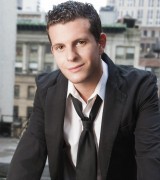 Pre-Broadway: The Mambo Kings.
Off Broadway: Exposed and Elephant in the Room (Stage 13) both directed by Dan Fogler, News Junkie (Lincoln Center Director's Lab) directed by Justin Waldman.
Regional: Dead End and The Rivals (Huntington Theater Company) both directed by Nicholas Martin, Henry V ( A.R.T) directed by Ron Daniels, Back, Back, Back (Dallas Theatre Center) directed by Hal Brooks, as well as credits at the Geva Theatre Center, Alabama Shakespeare Festival and the Paper Mill Playhouse.
Staged readings: Rewrites by Neil Simon directed by David Esbjornson, The Paris Letter by Jon Robin Baitz directed by Nicholas Martin, The Tulip Craze by Jay Reiss directed by Justin Waldman among others.
TV/Film: Madam Secretary, The Michael J. Fox Show, It's Always Sunny in Philadelphia, White Collar, Nurse Jackie, Jericho, Law & Order, All My Children as well as the critically acclaimed short film How to Make a Dollarbill in Brooklyn and the upcoming feature The Big Ship directed by Alex Karpovsky.