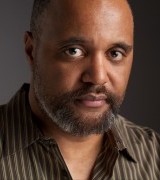 New York Theatre: Court-Martial At Fort Devens, New Federal Theatre, director Mary Beth Easley, (Audelco Award Best Cast & Best Play); Hurricane Katrina, director Dann Fink, Lucille Lortel Theatre; As You Like It, director Jessie Ontiveros, Mint Theatre; Julius Caesar, director Nate Merchant, American Globe Theatre; Blues For Mister Charlie, director Brad Malow, Marjorie Dean Theatre; Miss Evers' Boys, Director Melanie Moyers, Red Fern Theatre Company.
Regional Theatre: Henry V, director Michael Sexton, Two River Theatre Company; Macbeth, directors Aaron Posner & Teller (of Penn and Teller), Folger Theatre (Helen Hayes Nomination Best Ensemble) & Two River Theatre Company; Fences, director Timothy Douglas, American Stage and African Globe Theatre; Apostasy, director Suzanne Barabas, (World Premiere), New Jersey Repertory Company; The Exonerated, director Dave Mowers, Charlotte Repertory Company; Driving Miss Daisy, director John Eyd, Stage East Ensemble; A Christmas Carol, director Pedro Silva, North Carolina Shakespeare Festival.
Film: The Incredible Jessica James, James Strouse; Saturday Church, Round Films & Spring Pictures; Keep the Change, Tangerine Entertainment; The Over/Under, Two Avenues Productions; Macbeth The Film, Folger Productions; For All Mankind, Onset Films; Meet the Pitts, Killer Clown Productions; Graveyard Shift, Dog-Eared Media Productions; Asbury Park, Seacoast Films; Give Chase, Laupus Productions, First Baptist, McClyde Productions; Long Shadows, Lamplighter Productions.
Television: Mindhunter, Mating, Blue Bloods, The Black List, NBC; House of Cards, NETFLIX; The Affair, Showtime; Gotham, Fox; Made In Jersey, CBS; All My Children, ABC.
Training: MFA, Shakespeare Theatre Company Academy for Classical Acting at George Washington University; American Academy of Dramatic Arts.