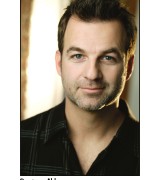 Gregory Abbey was born in Great Falls, Montana but spent his youth moving around the country as part of an Air Force Family. He went to high school in Nebraska and Montana and junior high in Missouri. Along the way he also made stops in Rhode Island, Alabama, California and North Dakota. Ultimately, he considers himself essentially "Midwestern". Which means he's skilled at forced politeness and backyard soccer.
After studying acting at Rutgers Mason Gross School of the Arts with Bill Esper, Maggie Flanigan and Vicki Hart, Gregory moved to New York City where he has worked consistently for the last several years. In addition to having done hundreds of national commercials and voiceovers, he has recently been seen in episodes of Instinct, Deadbeat,The Good Wife, Blue Bloods, Person of Interest, The Americans. Elementary, and Boardwalk Empire.
Gregory also worked at 4kids Entertainment for many years where he voiced characters on several animated shows including Yugioh (Tristan), Teenage Mutant Ninja Turtles (Raphael) and Yugioh 5D's (Yusei Fudo). He also voiced Cyclops in the motion comic The Astonishing Xmen, written by Joss Whedon.
He is a writer and filmmaker as well, creating the web series Marriage and Other Tragedies in 2012.