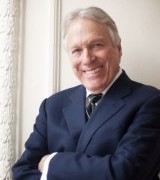 GREG MULLAVEY is a veteran actor who has appeared in over 100 productions from Anchorage to Miami and from Boston to San Diego. His latest as Charles in Exit/Entrance opposite Linda Thorson at 59E59 and as Blakely in White Woman Street, directed by Charlotte Moore at Irish Rep. On Broadway he played Mia Farrow's journalist husband Leo in Romantic Comedy and played the lead, Lenny in Rumors, directed by Gene Saks and the Broadway Tour of The Sisters Rosensweig as Merv, directed by Dan Sullivan.
Regionally he played Gaev opposite Alfred Molina in The Cherry Orchard at the Odyssey Theatre in Los Angeles, directed by Jack Stehlin and The Dinner Party as Claude Pichon at the Paper Mill Playhouse, directed by John Rando; Clever Little Lies as Bill Sr. at the George Street Playhouse,  directed by David Saint; King Lear as Lear at Oklahoma City's, Center Theatre, directed by Kathryn McGill; The Price as Walter at The Guthrie Theatre, directed by David Thacker; Inherit the Wind as Drummond at TheFulton Opera House, directed by Michael Mitchell; Proof as Robert at Rochester's GEVA Theatre, directed by Mark Cuddy and among many, many others: Breaking Legs at The Old Globe, directed by Jack O'Brien and Tarleton in Shaw's Misalliance and as Harvey in the Lay of the Land at Pittsburgh's Public under the steady hand of Lee Grant.
Greg has appeared in 100s of episodic television productions and numerous feature films from Gunsmoke and Bob and Carol and Ted and Alice to The Secret Life Of the American
Teenager and his recurring role as Grandad in the hit tweener Nickelodeon show iCarly to his latest feature as a WWII German General, Hans Von Ulbricht in The Desperate, but is perhaps best known for his role as Tom Hartman in the Norman Lear, late 70s hit show, Mary Hartman, Mary Hartman.