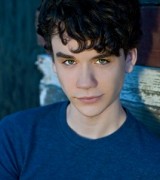 Film work includes The Bad Son (Jeremy), The Skeleton Twins (Waiter), Spanglish (Georgie, Adam Sandler's son), The Ex (Steve), Favorite Son (Henry), and The Man at the Counter in the Lead Role.
Television credits include Weeds for Showtime, 30 Rock (Jordan, Jenna's Boy Toy), Human Giant, and Hate for Showtime. Ian has also translated Elian Gonzales for the interview on 60 Minutes on CBS.
Theater: Ian made his debut on the stage in Chris Henry's production of Safe Home (John Hollytree) in New York at the Women's InterArt Theater.
Ian's numerous commercials for Radio and Television include AT&T, Bing.com, Dimetapp among many others.
Ian is an accomplished Martial Artist specializing in Kung Fu Hung Fut Style with Hand forms, Staff and Swords forms. Ian has studied Ballroom Dance for several years and is trained in Cha-Cha, Salsa, Foxtrot, Waltz, Tango to name a few. He Trains with Greg Parente at The Ted Bardy Studio.