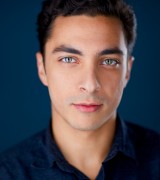 NYC Theatre: Mint/Baker in T. Williams 1982 (Soho Repertory Theatre), Ali Habib in Solutions Grassroots (Irondale Center), Aly in Queens Boulevard (Theatre Row), Don in The Parade (NYC Tennessee Williams Festival) and Piero in Big Love (Michael Schimmel Theatre).
FILM: Really? (dir. Mary Lou Belli)
Regional: Octavius Caesar in Julius Caesar (Access Theatre) and Ned in The Normal Heart (Blackbox 311)
Training: Pace University BFA. Masterclass with Andreas Manolikakis. Independent studies/mentorships in directing, writing and producing.
Skills: Longboarding, french, shaolin kung fu, horseback riding, drivers license, passport, soccer, swimming, bug toucher, guitar, piano, sight singing, arial arts