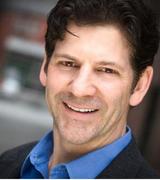 Broadway: A View from the Bridge (with Liev Schreiber and Scarlett Johansson), Gregory Mosher, dir.
Off-Broadway: A Stone Carver (co-star w/Dan Lauria) at the SoHo Playhouse, Robert Kalfin, dir.; Kaos at New York Theatre Workshop, Martha Clarke, dir., Flesh and the Desert, NYSPF, Beth Milles, dir.
Regional: Leading roles in over forty Equity productions, including: Florindo in The Venetian Twins at the Guthrie Theatre (with Rainn Wilson), Michael Bogdanov, dir., The Underpants (with Everett Quinton), at Arizona Theatre Co., Jon Jory, dir.; Bill Walker in Major Barbara, at San Jose Rep, Timothy Near, dir.; Leontes in The Winter's Tale, at Utah Shakespearean Festival, James Edmondson, dir.; The Philadelphia Story, at Missouri Rep, Michael Bloom, dir.; Romeo in Romeo & Juliet, at Colorado Shakespeare Festival, Tony Church, dir.; Benedick in Much Ado about Nothing and Halliwell in O Lovely Glowworm at Portland Center Stage; Benedick in Much Ado, Nicholas Nickleby, Three Days of Rain, Look Homeward, Angel, The Machine (with Ed Asner) and many others at the Asolo Theatre; Jere in Mount Allegro (with Tony Musante) at the Geva Theatre; A View from the Bridge and Macbeth at Pioneer Theatre; Julius Caesar and The Plough and the Stars at New Jersey Shakespeare Festival; Marry me a Little at Vineyard Playhouse; A Stone Carver at Passage Theatre; Guys and Dolls and South Pacific at Muhlenberg Summer Theatre. In Los Angeles he's performed in Cyrano de Bergerac at A Noise Within and The Scarecrow at Pacific Resident Theatre (with Orson Bean & Alley Mills).
Other NYC work includes roles at: Town Hall (Romeo), the Abingdon Theatre, Peccadillo Theatre, New Dramatists, Musical Theatreworks and SoHo Rep.
Film and Television work includes guest-starring roles on Law & Order, Law & Order: SVU, Law & Order: CI, The Street, Queens Supreme, Another World, One Life to Live, Loving, and the films Petty Crimes and Going the Distance (with Drew Barrymore).
Directing credits include work at the Asolo Theatre, Abingdon Theatre and the New York International Fringe Festival.
He received his M.F.A. from New York University's Graduate Acting Program and studied at the Moscow Art Theatre.