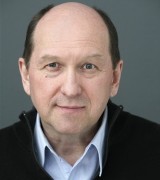 New York: COME FROM AWAY (Claude & Others), ANNIE (Drake), BILLY ELLIOT (George/ Dad) dir. Stephen Daldry, ADDING MACHINE, THE MUSICAL (Zero) Obie and Lortel awards, dir. David Cromer, ANNIE WARBUCKS (Simon Whitehead) dir. Martin Charnin, BULL DURHAM (Max) workshop.

Production and Tours: COME FROM AWAY (Claude/Others/As Cast), BULL DURHAM (Max Patkin), SHOWBOAT (Windy/ Andy) dir. Harold Prince, BEAUTY AND THE BEAST (Maurice), RAGTIME dir. Frank Galati.

Chicago: HOUSE AND GARDEN (Teddy Platt) dir. Bob Falls, PERICLES (Simoides) dir. Mary Zimmerman, HOW TO SUCCEED IN BUSINESS (Biggley) dir. Gary Griffen, CYMBELINE (Pisanio) dir. Barbara Gaines, ANOTHER PART OF THE FOREST (Marcus) dir. William Brown, INHERIT THE WIND (Drummond) dir. Michael Edwards, BENEFACTORS (Colin) dir. Michael Halberstam.

Television and Film: THE GOOD WIFE (CBS), ELEMENTARY (CBS), PRISON BREAK (FOX), THE UNTOUCHABLES (PARAMOUNT), WHILE YOU WERE SLEEPING (DISNEY)