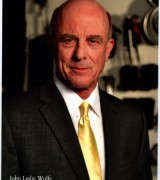 Broadway: Titanic, Parade, Passion, Evita, and Sarava. New York City Opera: Brigadoon (Tommy), Most Happy Fella (Joey).
National tours and regional: Ragtime(Henry Ford), West Side Story(Lt. Schrank), Phantom of the Opera/Las Vegas (Andre) Parade (Watkins), Evita (Peron), Sweeney Todd (Sweeney), Annie (Warbucks), 1776 (Hancock), Our Town (Dr. Gibbs), To Kill a Mockingbird (Heck Tate), Diner (Eddie's Father).
Kennedy Center: Martin Guerre (Pierre Guerre), Passion (Col. Ricci), and soloist with NSO Pops.
TV: The West Wing, The Wire, Homicide, and HBO's Something the Lord Made (Walter Dandy), with Alan Rickman.
Feature Films: The Invasion, Step Up, and Invincible.