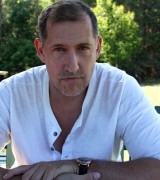 John has enjoyed a ten year collaboration with Larry Fessenden and GlassEye Pix, having appeared with James LeGros in BITTER FEAST, and as Cornelius Murphy in Glen McQuaid's I SELL THE DEAD . Other GlassEye projects include WENDIGO (as Otis), Ti West's HOUSE OF THE DEVIL, THE ROOST and the upcoming THE INNKEEPERS (playing "Officer Mitchell" in the latter two films), and briefly in Larry's THE LAST WINTER. Other film work includes INSIDE MAN (dir. Spike Lee), CAYMAN WENT, FANTASTIC FOUR, RULES OF ENGAGEMENT (dir. William Friedkin), SCHOOL TIES, JERSEY GIRL, TOWN DIARY, and THE TRADE. John plays a starring role in the indie film UNCONSCIOUS, directed by Brad Wigor, and recently worked for director Raja Gosnell in next summer's THE SMURF MOVIE.
Numerous television credits include a recurring role on Denis Leary's "Rescue Me", and work on "Law & Order"– including the series finale, "Law & Order CI", and "Law & Order SVU". Other recent credits include "The Good Wife", and a recurring role as NCAA Analyst Peter Cotchery on Comedy Central's "Onion SportsDome." John has been directed by Sidney Lumet in "100 Centre Street", was a series regular on Oprah Winfrey's "Brewster Place" and ABC's "Sirens", and played Buck in the CBS mini-series "Return to Lonesome Dove". Other TV roles include "New York Undercover", "Education of Max Bickford", "Queens Supreme" and "Far East" (PBS).
His stage work includes Broadway ('A View from the Bridge'), the national tour of 'Death of a Salesman' (with Hal Holbrook), and numerous off-Broadway productions including Paul Weitz's 'All for One', and The Vineyard Theatre's 'Food and Shelter' starring Philip Seymour Hoffman.
He has studied acting with Glenda Jackson, William Esper and has an MFA from Rutgers University.