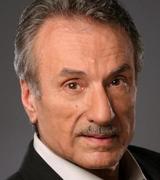 Films include: "Isn't It Romantic," "Flatbush Luck," "Kicking & Screaming" (Will Ferrell), "Stiffs" (Danny Aiello, Lesley Ann Warren), "Partners" (Ryan O'Neil), "Who Is Harry Kellerman" (Dustin Hoffman), "Dying 101″ etc. etc.
Television: HBO miniseries "The Pacific" (Salvatore Basilone), Guest starred in over 250 shows from 'Mod Squad' to "Soprano's" – "Seinfeld" (Willie, his dry cleaner), "Imagination Movers" (Disney), "NYPDBlue", "Law and Order", "Triple Play" w/ Liza Minnelli: "One Day at a Time" (recurring), Hart to Hart, 'Antony & Cleopatra' w/ Lynn Redgrave, "Hammerhead" etc. etc. etc.
NY: original "Dames at Sea';"Damn Yankees" (Bennie Van Buren – Nt'l Co. w/ Jerry Lewis; "Golden Boy" (City Center), "Price of Fame" w/ Charles Grodin (Roundabout), L.A., Shakespeare Festivals. "The Tempest" (Mark Taper Forum (Trinculo w/ Anthony Hopkins) Iago "Othello"
Regional: "12 Angry Men" (Juror #11), "My Fair Lady" (Doolittle), "Tenth Man" (Foreman), "The Dybbuk" (Mark Taper), "You Can't Take It With You" (Kolienkov), "School For Wives" (Arnolphe) etc.
Musicals:(include) "Funny Thing Happened etc." (Pseudolus), "Oklahoma"(Ali Hakim), "Bells Are Ringing" (Sandor), "Can Can" (Boris) etc.
Director/Teacher/coach/conducts seminars in schools.
josephrsicari.com