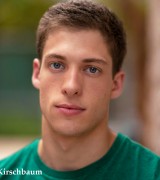 Theater : Jerry Lukowski in The Full Monty; Antipholus of Espesus in Comedy of Errors; Cassio in Othello; Roy, Tim Talk Show Host in Reckless; Cord Elam in Oklahoma!; Sandy in The Man Who Came To Dinner; Nathan Detroit in Guys and Dolls; El Gallo in The Fantasticks; Lumiere in Beauty and the Beast; Simon Zaelotes in Jesus Christ Superstar.
Film: Trunk (dir. Rob Upchurch), Salad Days (dir. Ana Humphrey), Two Weeks (dir. Ana Humphrey), Hungry in Tuscan (dir. Greg Castro), We, The Band (dir. Azia Squire), My Mother's Curse (dir. Eliza Weiss).
Training: The University of Arizona, Bachelor of Fine Arts in Musical Theatre
U.S. Performing Arts' Musical Theater Conservatory at UCLA.
Additional Skills: Drums/Percussion; Improvisation; Stage Combat (Broadsword, Rapier & Dagger, Hand- to- Hand); Dialects/Impersonations