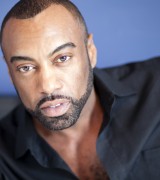 Film: Finding Her (supporting lead)-dir-Vlad Feier, My Other Home (supporting)-dir-Larry Yang.
Television: 24, Guiding Light, JAG, NYPD Blue.
Regional Theatre: Marcus; Or The Secret of Sweet (Ogun) – dir-Robert O'Hara (January 2011); Ma Rainey's Black Bottom (Levee) – dir-Irene Lewis.
Grad School Theatre: Our Lady of 121st Street (Rooftop)-dir- Eric Ruffin, As You Like It (Duke Frederick)-dir-Paul Weidner, Death in Venice (Oscar)-dir-Jonathon Rosenburg, Greensleeves (Leon)-dir Sarah Rosen, The Brothers of Karamozov (Rakitin)-dir- Louis Wells, Fortinbras (Bernardo)-dir- David Bridel.
New York Theatre: Collapse (Ted)-dir-Jackson Gay, Wild With Happy (Mo')-dir-Robert O'Hara, All God's Chillun Got Wings (Jim)–dir, American Ma(u)l- Robert O'Hara; LA: The Piano Lesson (Lymon)-dir-Claude Purdy, A House With No Walls (Austin)-dir-Ben Guillory, The Ninth Wave (Clay)-dir-Andi Chapman, Fences (Cory)-dir-Charmin Lee, The Piano Lesson (Avery) –dir-Stevi Meredith, Cheaters (Allen)-dir- Ben Guillory, Soldier's Play (Henson)-dir-Chip Fields, Jonin' (Greg) –dir-Tommy Ford.

Training: MFA, Rutgers University.