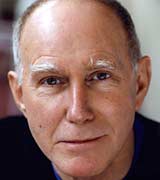 In his eighth season with Denver Center Theatre Company, Mike Hartman plays Dad Lewis in the premiere production of BENEDICTION, a new play  adapted from the final installment of Colorado author Kent Haruf's Plainsong Trilogy. Other notable roles with the company include Willy Loman in DEATH OF A SALESMAN, Branch Rickey in JACKIE & ME, Joe Keller in ALL MY SONS, Shelly Levene in GLENGARRY GLEN ROSS, Frank in A DIRTY STORY, Raymond in PLAINSONG/ EVENTIDE, Arthur in SUPERIOR DONUTS, Sid in THE CATCH, Rev. Casey in THE GRAPES OF WRATH and Gloucester in KING LEAR.
Hartman has also appeared on Broadway in a Tony Award-winning production of THE GRAPES OF WRATH as well as in THE KENTUCKY CYCLE and SHERLOCK HOLMES, and in a pre-Broadway trial of the musical WHISTLE DOWN THE WIND. As a member of the Cleveland Playhouse he performed TWELVE ANGRY MEN, PROOF, SEASCAPE, HARVEY, ON GOLDEN POND and ART. Additionally, Hartman has performed at The Kennedy Center, The Guthrie, Cincinnati Playhouse, Actors Theatre of Louisville, Virginia Stage Company, Geva Playhouse and Baltimore Center Stage.
His TV/Film credits include "Diane",  HBO Original Series "VEEP", "LAW AND ORDER" and "ED" as well as numerous Soap Opera appearances, and he holds a BA from Otterbein College.