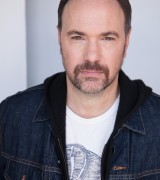 Neill Barry
Film: Atlas Shrugged, Alpha Dog, Friends and Lovers, Show and Tell, She's So Lovely, Hugo Pool, Legacy, The Take, Slipping Into Darkness and Fatal Beauty.
Television: Stolen From The Suburbs( Lifetime), Criminal Minds, House, CSI:NY, Night Shift(recurring), Without A Trace, Crossing Jordan, For the People, Strong Medicine, 7th Heaven, Melrose Place, Reason For Living: The Jill Ireland Story and All My Children (series regular).
Theatre: Any Wednesday (Bugsy Siegal Theatre), The Cat's Meow(Coast Playhouse), A Certain Labor Day (Theatre on The Square), Almost an Eagle ( Broadway), and All My Sons (Off Broadway).
Training: H/B Studios with Herbert Bergorf , Wait Witcover and Warren Robertson