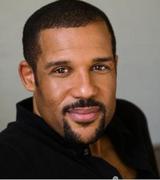 Peter Parros began his acting career at American Theatre Arts, in Hollywood, California. After performing in stage productions, commercials, and television, his big break came when he won the series regular role of 'RC3′ Reginald Cornelius III on the hit TV show Knight Rider. He was later cast as Officer Gus Grant – the series lead on The New Adam 12 series with Ethan Wayne. Parros has appeared in hundreds of television episodes including characters on Seinfeld, The Family Man, Hangin' with Mr. Cooper, Star Trek: The Next Generation, Bones, CSI Miami, Law and Order, Sherri, Royal Pains, and Castle. Feature film credits include Death Before Dishonor and Real Genius.
For seven years he played Dr. Ben Harris on the Emmy Award winning "Best Daytime Drama" As The World Turns – a role that earned Peter two NAACP Image Award nominations. Daytime fans also know him for his contract role as Dr. Ben Price on One Life To Live, Dane on Santa Barbara and Leo Baines on The Young and the Restless.
Born in Brooklyn, New York, Peter currently resides in Los Angeles with Jerri (his wife of 25 years) and their two children, Clayton and Petra. He became interested in acting while working with Brick Price Movie Miniatures. In addition to being a model builder, he was the Managing Editor of International Modeler, and Special Effects Modeler magazines.
Mr. Parros is a member of the Writers Guild of America west. In addition to writing episodic television, he has written, and co-written, several movies, including Something to Sing About, and The Climb. The Climb was voted Best Picture at the 2002 International Family Film Festival and swept the International Christian Visual Media Awards winning Best Picture. Peter is a member of Mastermedia, the National Academy of Television Arts and Sciences, and the Black Documentary Collective. In 2004, he became a member of the executive advisory board of Heritage Luminaries for the state's newly created New Jersey Black Cultural and Heritage Initiative. Parros also founded Ten Talents Productions with partner LaPhonso Ellis, which produces family entertainment, including Kidz of the King Adventures, an animated series based on the popular Kidz of the King comic book series.