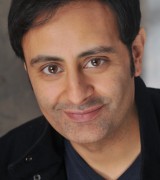 After graduating from Auckland's Unitec School of Performing Arts in 1994, Raj worked for the New Zealand film, theater and television industry for 20 years as an actor, writer, devisor, producer and director before immigrating to the United States.
While in New Zealand Raj created New Zealand's first Indo-Asian theatre company, The Untouchables Collective.
Raj is also one half of Those Indian Guys. Their shows have toured seven countries over ten years. (www.thoseindianguys.com)
New Zealand TV highlights include 1000 Apologies, NZ's first Prime Time Indo-Asian sketch comedy show, and The Millen Baird Show. Raj was a principal lead inThe Blue Rose, the flagship show of TV3's 2013 season. (www.tv3.co.nz) The show won a medal at the International Film and Television Awards in Las Vegas 2014 for Best Drama.
US TV credits include Your Stupid (Web Series),  Adfirm, Xena: Warrior Princess, Young Hercules and Cleopatra 2525. Most recently Raj completed a 10 Episode comedy series called Brown Nation as the lead. The show will air in 2016 on Netflix.
He also appeared in Roundabout Theater Companies production of Tom Stoppards Indian Ink in their fall season. The show ran for three months at the Laura Pels Theater on 46th Street. He appeared in Seattle Repertory's production of Pride and Prejudice.
Film Credits Include: The Stay, 1nite, The Price of Milk, and We're Here to Help.