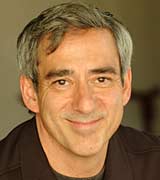 Broadway: To Be Or Not To Be (dir. Casey Nicholaw, MTC at the Friedman Theater), The Lion King (dir. Julie Taymor, New Amsterdam Theater), Social Security (dir. Mike Nichols, Barrymore Theater), The Drowsy Chaperone (dir. Casey Nicholaw,1st National Tour).
Off-Broadway: Simon Stimson in Our Town, Claudius in Hamlet (dir. Brian Kulick, Classic Stage Company), Sender in Tony Kushner's A Dybbuk (dir. Brian Kulick, Public Theater) and Mickey in the world premiere of Larry Kramer's The Normal Heart (dir. Michael Lindsey-Hall, Public Theater).
Regional Theatre: Vasily Korinsky in The 27th Man for Old Globe Theatre, Freud in Freud's Last Session (Guthrie Theater), Snug in A Midsummer Night's Dream for Shakespeare Theatre of DC (dir. Ethan McSweeny), Red for the Virginia Stage Co. (dir. Chris Hanna), Shylock in The Merchant of Venice for the Guthrie Theater (dir. Joe Dowling), Queen Elizabeth/Hitler/Reagan/ Nixon in the world premiere of Sarah Ruhl's A Passion Play for Arena Stage (dir. Molly Smith), the World Premiere of Teresa Rebeck's Mauritius for the Huntington Theater (dir. Rebecca Taichman), Bertolt Brecht in the world premiere of Itamar Moses' Outrage for Portland's Center Stage and Philadelphia's Wilma Theater, (dirs. Chris Coleman, Jiri Zizka respectively), The Front Page for The Long Wharf Theater (dir. Gordon Edelstein), Otto Frank in The Diary of Anne Frank for Viginia Stage Company (dir. Chris Hanna) and Elf in Santaland Diaries (dir. Irene Lewis). He has also played major roles in various productions for the Long Wharf Theater, the Mark Taper Forum, South Coast Repertory, Goodman Theater, Delacorte Theater, Dallas Theater Center, Pittsburgh Public, La Jolla Playhouse, Geffen Playhouse and Baltimore's Center Stage where he has been a long time associate artist.
Film/TV: Boardwalk Empire (HBO), Fool's Fire (dir. Julie Taymor), It Could Happen to You (dir. Andrew Bergman) and numerous syndicated TV shows including LA Law, Murphy Brown, Cybil, Mad About You, Diagnosis Murder, Love and War, Madigan Men and as a series regular on Legwork. He began his career as a clown for Ringling Brothers and Barnum and Bailey Circus.