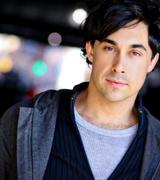 Broadway: Shrek (Piggie-Bricks/Donkey u/s).
Off-Broadway: The Most Beautiful Room in NY (Long Wharf Theatre), Liberty (Theatre 80 St. Marks), Altar Boyz (Original cast, New World Stages, Drama League Nomination), It Must Be Him (Playwrights Horizon's Peter Jay Sharp), The Fifth Column (Mint), theAtrainplays (New World Stages & Neighborhood Playhouse), The Body Beautiful and Minnie's Boys (York), Real Danger (EAT).
National Tours: Man of La Mancha, Fiddler on the Roof (Perchik u/s).
Regional: Ens in Table (Long Wharf Theater), Ens/As Cast in Gettin' The Band Back Together (George Street Playhouse), I'm Not Rappaport (pre-Broadway), 1776, A Christmas Carol (Ford's, D.C.), tick…tick, BOOM! (Adirondack Theatre Festival, NY), Side Show (Signature, VA), Hair (Studio, D.C.), Forever Plaid (Temple, NC).
Film/TV: Benny Costa in He's With Me, Stand By, SNL.
Workshops: Liberty, An Officer and a Gentleman.