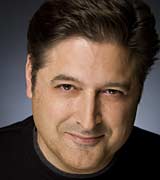 Tom Bastounes is an actor, producer, and founding partner of South Water Pictures in Chicago. A Second City Alum, Tom's unique mixture of skills, both comedic and dramatic, makes him a stand out in starring roles opposite actors like Michael Keaton, Kelly McDonald, and Bobby Cannavale.
He honed his craft as a member of the Second City touring company alongside Jeremy Piven, Steve Carell, and Billy Cusack. A regular face in commercials for Chevrolet, he took a direct route to the big screen by producing and starring in his first feature film, The Opera Lover, written and co-directed by Ron Lazzeretti. The film toured the film festival circuit, winning the Audience Prize at the Newport Film Festival. It went on to extensive play on the Sundance Channel, Showtime, and the Movie Channel, and was released on DVD.
Tom recently finished work as producer and co-star of Michael Keaton's directorial debut, The Merry Gentleman. In the film, a heady mix of suspense, gentle romance and quiet humor, Tom plays the role of the existentially romantic Detective Dave Murcheson, co-starring with both Keaton and Kelly MacDonald. The film was an official selection of the 2008 Sundance Film Festival and was released by the Samuel Goldwyn Company in May 2009 to rave reviews including Jeffrey Lyons, Roger Ebert and The New York Times.