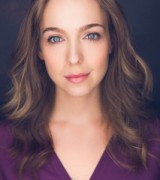 Theater: Monument (Lear) Source Material Collective/dir. Samantha Shay, The Two Arrows (Actor One) The ArtsLand Festival/dir. Boris Gafurov, Midsummer (Helena/Snug) Tiltyard/The Araca Project/dir. Sara Holdren, ²√3Sisters (Masha) Int. Festival of Arts & Ideas/dir. Dmitry Krymov, Arcadia (Chloe) Yale Rep/dir. James Bundy, The Moors (Emilie u/s) Yale Rep/dir. Jackson Gay, The Madness of Edgar Allen Poe (Ligeia/Luciana) First Folio Theatre/dir. Michael Goldberg, Sigourno Reaver (Member) iO Chicago/dir. Kevin Sciretta, The Tempest (Ariel) Yale School of Drama, The Skin of Our Teeth (Miss E. Muse/Conveener) Yale School of Drama/dir. Luke Harlan, The Bitter Tears of Petra Von Kant (Sidonie) Yale Cabaret/dir. Leora Morris.
Training & Education: Yale School of Drama (MFA in Acting); Moscow Art Theatre School (Certificate, American Academy); iO Chicago (Graduate Improv Training Course); BADA (Certificate, Midsummer in Oxford); Carleton College (BA, summa cum laude, Theatre Arts & Psychology).
Special Skills: Soprano-Contralto Vocal Range, Stage Combat, Clown/Commedia, Classical Guitar, Long-form Improv, Sketch Writing, Speech & Dialect Coaching, Basic Markmanship, Beginning Spanish, Driver's License, Valid Passport.