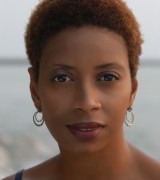 Libya on IMDB

Theatre: Nat in Roan at the Gates (Alley Theatre); Averre in Dot (Vineyard Theatre); Naomi in In the Book Of (Florida Studio Theatre); Francine/Lena in Clybourne Park (Alley Theatre); Valdemar/Others in The Complete Fictional Utterly True Final Strange Tale Of Edgar Allen Poe (Baltimore Center Stage); Lucy in The Rivals (Baltimore Center Stage); Gertrude/Player Queen in Hamlet (Baltimore Shakespeare); Dottie Moffett in Caroline or Change (Baltimore Center Stage); Mrs. Muller in Doubt (Peterborough Players); Portia/Plebian/Soldier in Julius Caesar (Shakespeare on the Sound; Ain't Suppose To Die A Natural (Scavenger Lady), Classical Theatre/Harlem; Romeo and Juliet (Lady Capulet), Classical Theatre/Harlem); Cassandra/Tiresias in Odyssey (The Looking Glass Theatre); Claudia in The Bluest Eye (Steppenwolf/New Victory); Mae in Dreams of Sara Breedlove (Goodman Theatre);Mrs Tyler/Ensemble in Smoldering Fires (First Stage Milwaukee); Mrs. Crachit in Christmas Carol (Milwaukee Repertory); Rosalind in As You Like It (Milwaukee Shakespeare); Black Mary in Gem of the Ocean (Goodman Theatre); Julia Augustine in Wedding Band (Steppenwolf Theatre); Tessa/Mimi/Bertha in Summertime (Lookingglass Theatre); Woman 1 in From The Mississippi Delta (Congo Square Theatre); Piano Lesson (Berniece), Congo Square Theatre);Magru/Woman 1 in Amistad Voices (Chicago Theatre Company);Lady in Red in For Colored Girls…! (Journeyman Theatre); Rene in Looking for a Good Thing (ETA); Witch/Lady MacDuff in Macbeth (Chicago Shakespeare Theatre); Jenny in Train is Coming (St. Louis Black Repertory); Sadie in Having Our Say (Hope Summer Repertory); Queen in Cinderella (Hope Summer Repertory); Cecily Pigeon in The Odd Couple (Hope Summer Repertory).
Film/Television: Kindergarten Teacher, Platinum Wigs, Love or Money (Pilot), One Life To Live, Law & Order: SVU, Jack's Big Music Show , Judy/Judy – (short)
Voice Over/Commercials: Stretch Model in Flexibility for Sports, Young Mother in For My Child, Customer for Starbucks, Spoken Word Artist for Walmart, Voice Over for Procter and Gamble, Voice Over for City of Chicago, Voice Over for Spotlight
Education: University of Illinois-UC (MFA), University of Louisiana (BFA),
Professional: Co-founder Ensemble of Congo Square; Teaching Artist: Sing for Hope. Libya is extremely excited to be participating in Pocketbook monologues with these special women for a special cause. SISTER POWER!