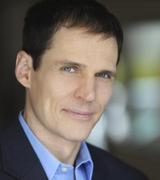 Film: Dottie's Thanksgiving Pickle with Olympia Dukakis, Bittersweet, Un Oeuf Is Enough, There You Are.
Television: Luke Cage, Law & Order, Kidnapped, All My Children, Guiding Light, As the World Turns.
Broadway: The Gentleman Caller in The Glass Menagerie with Jessica Lange & Sarah Paulson, Rock n Roll, The Lonesome West.
Off-Broadway: Tye McCool in Vieux Carré (dir. Austin Pendleton); Peter in Bug (dir. Dexter Bullard), Hamlet & Marc Antony in 1599, Mauler in St. Joan of the Stockyards (Irondale Ensemble), Beasley in Beasley's Christmas Party (Keen Company), Bosie in Gross Indecency: The Three Trials of Oscar Wilde (Tectonic Theatre/Minetta Lane), Donald in Apartment 3A, by Jeff Daniels (Arclight Theatre), Baby Face Martin in DEAD END (Irondale Ensemble), Harold in The Antigone Project (Women's Project).
Regional: Jerry in At Home at the Zoo (Berkshire Theatre Festival), Lenny in The Homecoming (Berkshire Theatre Festival, Berkie Nomination: Best Actor), Master Page in Merry Wives of Windsor (NJ Shakespeare), Elliot in Fool by Teresa Rebeck (Alley Theatre), F. Scott Fitzgerald in Scott and Hem (Barrington Stage Co. & CATF), Tommy in Oceanside, Milo in Beat Generation (Merrimack Rep), Bobby in In A Forest Dark & Deep; Peter Malkin in Captors (CATF), Denny in A Steady Rain, Katurian inThe Pillowman, Phil in The Shape of Things, Clifford in Sideman (Rep. Theatre of St. Louis), Shannon in The Night of the Iguana; Mick in The Caretaker (Triad Stage), Dr. Sugar in Suddenly Last Summer (Berkeley Rep.), Lot in Kingdom of Earth (Yale Rep.), Hal in Proof (Pioneer Theatre), Father Edmund in Custody of the Eyes (Cleveland Playhouse), Beasley in Beasley's Christmas Party—IRNE nomination, Best Actor (Merrimack Rep.), Tom in The Glass Menagerie (A.C.T.), Tom in The Glass Menagerie (Cincinnati Playhouse), also: A Midsummer Nights Dream (Pittsburgh Public), Da (Cape Playhouse), Portia Coughlan (McCarter Theatre), A Christmas Carol (McCarter Theatre), The Real Thing (The Old Globe), The Compleat Wrks of Wllm Shkspr—abridged (Florida Studio Theatre).
MFA: Alabama Shakepeare Festival; BA: University of North Carolina at Wilmington.