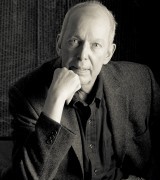 Off Broadway: Hindle Wakes/The Mint- Gus Kaikkonen Dir., Hold On To Me Darling – Neil Pepe Dir., Pocatello – Davis McCallum Dir., A Picture of Autumn/The Mint – Gus Kaikkonen Dir., Morning's at Seven/Berkshire Theatre Fest – Vivian Matalon Dir.
Regional: Outside Mullingar/Dorset Theatre Festival, Anna Christie/Berkshire Theatre Fest, Morning's at Seven/Berkshire Theatre Fest, Heroes/Merrimack Repertory- Carl Forsman dir, A Delicate Balance/Berkshire Theatre Fest- David Auburn dir, Molly Sweeney/ Long Wharf- Charlotte Moore dir
Broadway: Jonathan Hogan has appeared on Broadway in Comedians, Otherwise Engaged, Fifth of July, The Caine Mutiny Court Martial, As Is (Tony and Drama Desk nominations for Best Actor), Burn This, Taking Steps, and The Homecoming. A few of the plays he appeared in as a member, for 25 years, of the  celebrated, award winning and late, lamented Circle Rep include The Hot l Baltimore, The Mound Builders, and Balm in Gilead (in collaboration with Steppenwolf) . Other performances Off Broadway include Getting Out, Book of Days (by Lanford Wilson; directed by Marshall W. Mason –Circle Rep redux), In the Matter of J. Robert Oppenheimer, The Madras House, The Conscientious Objector, Heroes, Sophistry and Brian Friel's "Molly Sweeney" at The Irish Rep. Regionally, in the summer of 2010 he played Tobias in David Auburn's production of A Delicate Balance at The Berkshire Theatre Festival. He has also performed at The McCarter Theatre, George Street Playhouse, La Jolla Playhouse, The Repertory Theatre of St. Louis and Hartford Stage. Films include In Country, The House on Carroll Street, A Fish In The Bathtub and Revolution #9.
FILM/TV: Woody Allen Fall 2017 Project, 40 North, As The World Turns, One Life To Live, several Movies of the Week, L.A. Law, Quantum Leap, Law & Order, Law & Order: SVU, Law & Order: Criminal Intent, Law & Order: Trial by Jury.
Mr. Hogan is a graduate of The Goodman Theatre and School of Drama.