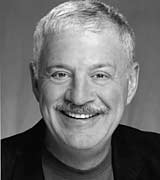 Paul Hecht made his debut on Broadway as the Player in Tom Stoppard's Rosencrantz & Guildenstern are Dead, (Tony award nomination 1968). He appeared on Broadway in the dual roles of John Ruskin & Jerome K. Jerome in Stoppards Invention of Love. Other Broadway roles include John Dickinson in 1776 (performed at the Nixon White House), Nathan in the Bock-Harnick musical Rothschilds, Rufio in Shaws Caesar & Cleopatra, and Belcredi in Pirandellos Henry IV, (both with Rex Harrison), Dick Wagner in Tom Stoppards Night & Day, (with Maggie Smith), and the Director in Noises Off, Herzl by Dore Schary, and Don Juan by Moliere, for the New Phoenix Rep.
Off Broadway: George Pye in Humble Boy (Charlotte Jones) at the Manhattan Theater Club and on tour in the UK with the National Theatre. Ralph in the American Premiere of Harold Pinters Moonlight at the Roundabout (with Jason Robards), and Neil Simon's London Suite.
Other appearances Off-Broadway include MacBird & Sjt. Musgraves Dance. For his portrayal of Pirandello's Henry IV at the Roundabout he received an OBIE award . (1990)
Around the country he has appeared as Cyrano in the world premiere of the Anthony Burgess translation at the Guthrie in Minneapolis , and as Marc Antony in both Julius Caesar and Antony & Cleopatra at the American Shakespeare Festival Stratford Connecticut. He has performed with the NY Shakespeare Festival in such roles as Henry V, MacDuff, and Menenius in Coriolanus (with Christopher Walken).
He has performed in plays by Shaw, Chekhov, Turgenev, Handke, Kaufman-Ferber, Brecht, Harwood, Osborne, Dickens and Pinter, at Canadas Shaw Festival, McCarter:Princeton, Manitoba Theater Center, John Drew: East Hampton, Berkshire Theatre Festival, Baystreet: Sag Harbor, & Lincoln Center.
TV audiences may have recognized him over the years as Charles in Kate and Allie, and as a variety of unsavory characters in Law & Order, Queer as Folk, Family Re-Union (with Bette Davis), I'll Take Manhattan (with Valerie Bertinelli) , All My Children, One Life To Live, Another World, As the World Turns, Starsky & Hutch, Hawaii 5/0, Remington Steele, and the premiere episode of Miami Vice.
Movie Credits include Last Call with Jeremy Irons and Sissy Spacek, Down to Earth with Chris Rock, Private Parts with Howard Stern, directed by Betty Thomas, Joshua Then and Now with James Woods, directed by Ted Kotcheff, Alan Alda's A New Life, Rollover, directed by Alan Pakula, and The Tempest, directed by Paul Mazursky.
He has recorded extensively for the Canadian Broadcasting Corporation, where he began his career as a staff announcer in Montreal in the early '60's. During that time he worked with the legendary radio director Rupert Caplan and hosted a live radio show from Expo '67 in Montreal with Lise Payette.
He appeared frequently on Hi Brown's CBS Radio Mystery Theater, and narrated Oscar Wildes short story The Selfish Giant (Oscar Nomination 1968). He works regularly for Recorded Books (Alexander McCall Smith, Ray Bradbury, William Safire, Thomas Mann, Arthur Conan Doyle,Gore Vidal, Balzac). He appears regularly on Selected Shorts at Symphony Space, and also at the Unterberg Poetry Center at the 92nd st where he directed Edna St Vincent Millays Conversation at Midnight. He appeared in Every Good Boy Deserves Favour (Stoppard/Previn) and Façade (Walton/Sitwell) with the Philadelphia Orchestra and, was the Narrator of Stravinsky's Histoire du Soldat, conducted by Robert Craft. He has performed with the Allentown Symphony,the Newberry Consort, (Chicago),the Vertical Opera (Brooklyn) and the Dryden Ensemble (Princeton). He also performs a program of John Donne poetry with the Early Music Group Parthenia. He was a member of the first graduating class of the National Theatre School of Canada(1963). He reads to elementary schoolchildren at PS 255 in Brooklyn as part of the Screen Actors Guilds Bookpals program and served as President of the New York Branch of SAG from 1991-1995.